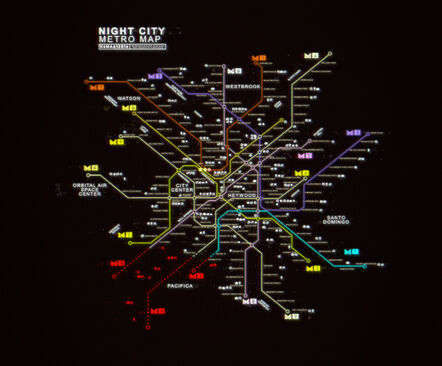 Night City is a fictional city located between Los Angeles and San Francisco on the west coast of the United States, near San Jose, California. It is the main setting of the Cyberpunk 2020 PnP RPG, as well as CD Projekt RED's upcoming Cyberpunk 2077.
Night City is comprised of six districts, of which the most impressive is City Center. The city center is the heart of the city, home to corporations, clusters of neon and the quintessence of luxury. A unique mix of Asian cultures follows with Watson, a fallen corporate giant now populated by immigrants, hiding various bazaars and markets in a tangle of narrow alleyways. Featuring tourist-oriented Japantown, Westbrook is a place for the wealthy who like to work hard and play hard.
Living in the neighborhood of Heywood means you have successfully managed to climb the social ladder. Heywood is a massive suburban housing district with an underlying gang problem. At the other end of the spectrum we have Pacifica, the most dangerous part of town, abandoned and overrun by gang activity. Separated from the rest of the city, it's a place of immense poverty.
All of Night City is powered by Santo Domingo, with its countless power plants and industrial factories stuck in an endless cycle of modernization.
History
By name Richard Night.
Gangs
There are several gangs in Night City.
Services
Gallery